**An update of this post is available here with 2019 data**
Today the FCA has published a data bulletin with trends and data on the financial adviser market.
Headline findings:
There are more advisers but fewer financial advice firms. There are more big firms but we think the trend isn't strong enough to hang our hats on yet.
Firms with 5-50 advisers continue to earn the highest revenue per advising staff and revenue per adviser continues to grow most quickly for these firms.
Small adviser firms pay far higher PII premiums but their profit as a percent of revenue is highest.
More advisers, fewer firms
There are 26,677 financial advisers in the UK, up 1% over last year and up 4% since 2016.
The chart below shows the number of firms by year (left axis) and the number of advisers (right axis).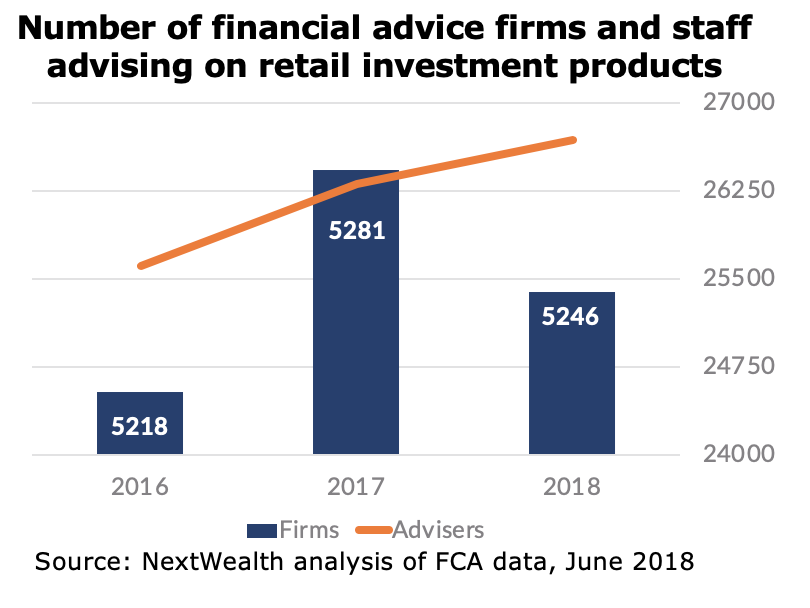 We're not yet ready to say that consolidation has changed the shape of the adviser market.
We've been consistent in saying that consolidation will affect firms with three or more advisers. Sole traders will retire slowly. The numbers appear to back up this assertion but we still think it's too early to say the data prove us right. An 11% increase in firms with 50 or more advisers sounds impressive but the data aren't consistent. More detailed analysis is required.
Five to Fifty Sweet Spot
Advice firms with between five and fifty advisers continue to make more money per adviser than either smaller or larger firms. Revenue growth year on year is also stronger – strengthening their lead. Five to fifty advisers might just be the sweet spot for revenue per adviser.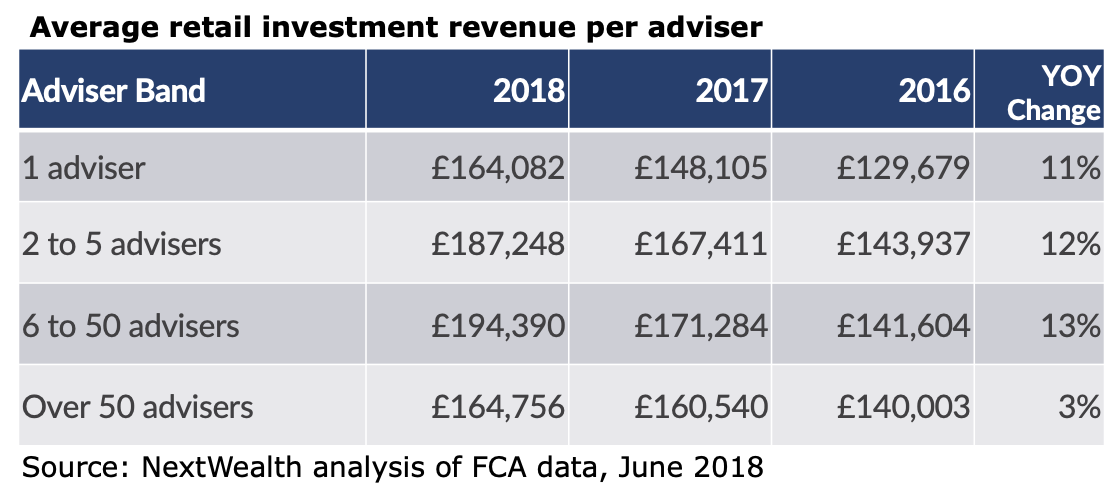 Small firms have highest profit as share of revenue
We often hear that it is getting harder to run a small financial advice business. The regulatory costs and technology investment required are often cited as reasons it's getting harder for small adviser businesses to survive.
But … the FCA data show that the smaller the adviser business, the higher the profit as a percent of revenue. PII premiums are far higher for smaller firms – supporting the notion that there are higher costs associated with smaller firms. Nonetheless, firms with 50+ advisers are most likely to make a loss. 
Heather is a data and research expert specialising in retail investment distribution. Heather is the Managing Director and Founder of NextWealth. She is also a Director of Clive Waller Consulting Ltd and serves as Vice-Chair of The Investment Network and the Schroders UK Platform Awards.