Advice Fee Benchmarking: How do your fees compare to the market average?
By Mark Aldous | 18 October 2023 | 2 minute read
What are the fees clients are paying? 
NextWealth has established benchmarks for the total cost of investing for advised clients as well as the cost for each component of the supply chain. The total client cost fell in the past year after remaining at about 2% for several years. The total cost dropped to 1.75%.
Total cost of advice by component of value chain 

The average cost of ongoing advice is 63.7bps, down 4.7bps. It remains in 2023 the largest share of total client costs. Platform fees represent the smallest share at 25.0bps.
Initial advice fees
Initial fees tend to be higher than ongoing advice fees. Tiering was the most widely used initial fee charging mechanism.
  Firms charging an initial advice fee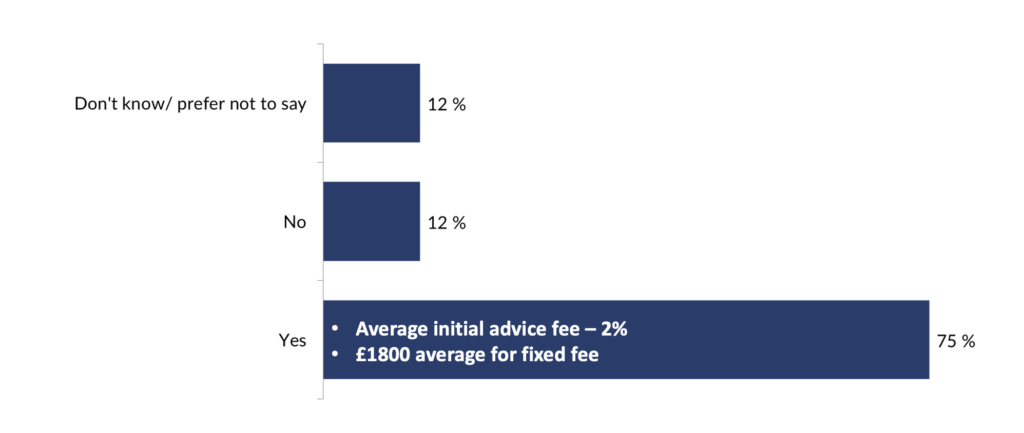 One fifth of respondents said their firm charged 3% on initial advice given to clients, whilst the average is 2%. A further 21% said clients were charged a fixed amount, with an average of £1800.  
What is next in fees?  
We are beginning to see more firms explore subscription-based fee structures. About one fifth use this fee model at least sometimes compared to 13% last year. Subscription based fee models are growing in popularity in the US to support HENRYs (high earning, not rich yet) clients.
Use of fee structures in firms

Email enquiries@nextwealth.co.uk for further information.​
Related posts
clients
MPS is growing faster than the platform market and costs for clients are falling. These are two key findings of NextWealth's latest MPS Proposition Comparison Report, designed to provide insights and trends into how the advice profession is managing client investments.